Original Lyrics by Michael Jackson
limited pieces of art for art collectors
Kurzfassung: Two decades after the largest grossing world tour of our generation, memorabilia from the vaults Michael Jackson history world tour are being offered by Michael Jackson Tokyo Co. Ltd to fans and collectors a like: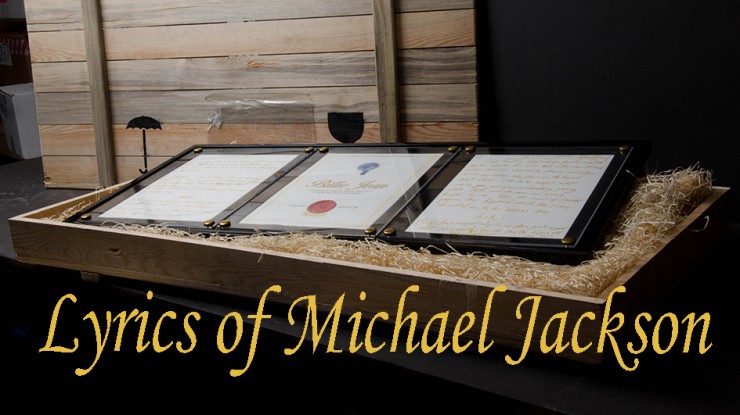 Lyrics by Michael Jackson
[Artlima AG - 27.02.2015] High end lithographs of the original handwritten lyrics of Billie Jean by Michael Jackson. Originally intended to be distributed during the History world tour that spanned 30 countries, these exclusive high end limited items total just 100 for each of the 30 countries. They can be purchased exclusively online at http://billiejean-lyrics.com
Each Artwork consists of 2 Pages and a numbered certificate. The 3 pages are sealed under acrylic glass next to each other on a wooden frame. Buyers will receive the 84 x 37 2 cm measuring artwork in a wooden chest, enhancing its exquisite value. The different versions display the flag of the respective country on the certificate.
5 of these one of a kind prints have been donated to an online-raffle at http://www.mj-memories.com. Anyone can participate with a chance of winning by registering on the homepage. Registered Users will be notified via E-Mail of more exclusive upcoming one of a kind offers for sale. (Original MJ hat from Smooth Criminal, autographed posters, letters etc).
Weitere Informationen
Weitere Meldungen dieses Unternehmens
Die Pressemeldung "Original Lyrics by Michael Jackson" unterliegt dem Urheberrecht. Jegliche Verwendung dieses Textes, auch auszugsweise, erfordert die vorherige schriftliche Erlaubnis des Autors. Autor der Pressemeldung "Original Lyrics by Michael Jackson" ist Artlima AG, vertreten durch Andre Morris.